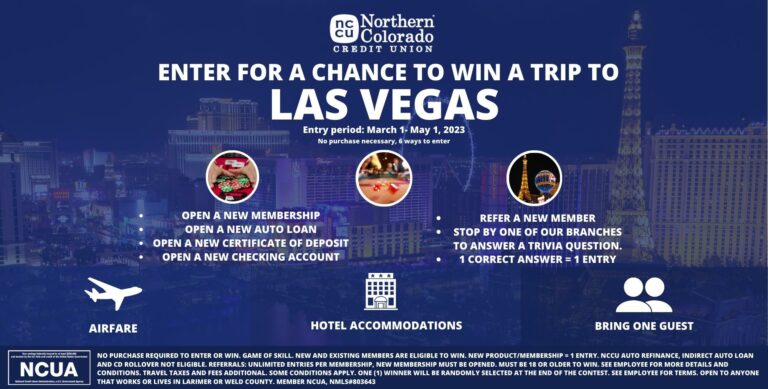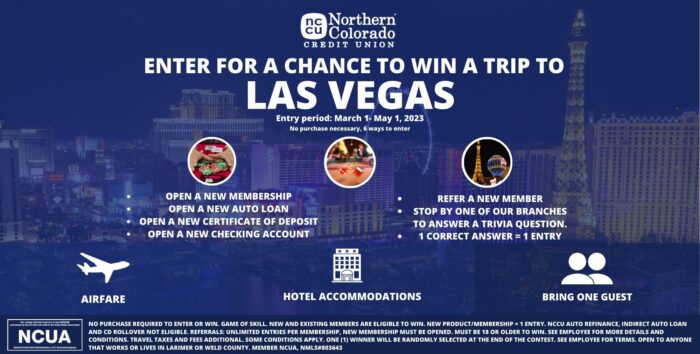 Viva Las Vegas!
One (1) lucky winner will receive round trip airfare and 3 days/2 nights hotel accommodations from Northern Colorado Credit Union for you and a guest when you enter to win!
Get ready for the adventure of a lifetime in the glow of Las Vegas' brightly lit streets and lavish casinos. Experience the energy and the excitement of Nevada's shimmering city. With so many options for shows, gaming, tours, dining, and nightlife, there is a perfect place for everyone to visit. Whether you are looking for a place directly on the strip, or want to experience Downtown Las Vegas and Fremont Street, your travel agent from our partnering agency can recommend the perfect hotel for your stay in Vegas.
How to Qualify:
Enter for your chance to win February 1 – March 31, 2022
Open a new membership
Open a new auto loan
Open a new checking account
Open a new CD
Refer a new member
Stop by one of our branches to answer a trivia question. 1 Correct answer = 1 Entry
What's Included:
Roundtrip Airfare for 2
Enjoy roundtrip flights! You and a companion are entitled to two roundtrip airfare tickets to fabulous Las Vegas. Travel any time before March 30, 2024!
2 Nights of Accommodation
Whether you're looking for a place close to the main strip, or want to experience Downtown Las Vegas and Fremont Street, your travel agent can recommend the perfect hotel for your stay in Vegas.
Free Entertainment & Attractions
The Aquarium at the Silverton, The Bellagio Conservatory, Circus Acts at Circus Circus…these are just a few on the many FREE attractions one can find in Las Vegas! Be sure to visit the Fountains of Bellagio and M&M's World!
Competition Official Rules
GAME OF SKILL. NO PURCHASE OR PAYMENT IS NECESSARY TO ENTER OR WIN THIS COMPETITION. A PURCHASE OR PAYMENT WILL NOT INCREASE YOUR CHANCES OF WINNING. VOID WHERE PROHIBITED OR RESTRICTED BY LAW OR REGULATION.
Northern Colorado Credit Union is not affiliated with Fly Away 'N' Play or Odenza marketing Group.
BY ENTERING THE COMPETITION, YOU AGREE TO THESE OFFICIAL RULES, WHICH FORM A CONTRACT. SUBJECT TO APPLICABLE LAWS, THIS CONTRACT INCLUDES INDEMNITY OBLIGATIONS ON THE PART OF ENTRANT AND A LIMITATION OF ENTRANT'S RIGHTS AND REMEDIES.
1. Eligibility. The Fly Away 'N' Play Giveaway (the "Competition") is only open to legal residents of Weld or Larimer County, Colorado who are eighteen (18) years of age or older. Persons in any of the following categories are NOT eligible to win a prize: (a) employees of Northern Colorado Credit Union (NCCU) or members of their household, (b) suppliers of goods or services in connection with the Competition, including individuals engaged in the development, production or distribution of materials for the Competition. All eligibility is subject to all national, provincial, municipal, territorial, federal, state and local laws and regulations. All entries submitted are the property of Northern Colorado Credit Union (the "Sponsor").
2. Competition. The Competition begins on March 1, 2023 at 12:01:00 a.m. Mountain Standard Time ("MST"), and ends on May 1, 2023 at 11:59:59 p.m. MST (the "Entry Period"). There will be one (1) unique random drawing to award one (1) prize. Entry in the Competition does not constitute entry into any other promotion, contest, or Competition. By participating in the Competition, each Entrant unconditionally accepts and agrees to comply with and abide by these rules, the Official Rules and the decisions of the Sponsor, and/or the Administrator whose decisions shall be final and legally binding in all respects and not subject to further review in any forum.
3. How To Enter. There are six (6) ways to enter:
(a) Open a new membership with NCCU during the Entry Period and you will be entered into the Competition. Limit 1 entry per person.
(b) Open a new auto loan with NCCU during the Entry Period and you will be entered into the Competition. Limit 1 entry per person.
(c) Open a new loan or credit card product during the Entry Period. New and existing members eligible. Each new loan or credit card will count as one (1) membership.
(d) Open a new checking account. New and existing members eligible. Each checking account will count as one (1) membership.
(e) Refer a new member by filling out the form at https://www.nococu.org/referrals/. Open to existing members. Referral must result in a new membership. Unlimited entries.
(f) You may enter without an NCCU transaction by visiting either NCCU branch to answer a trivia question. One (1) correct answer will earn one (1) entry.
**Memberships/and or loans opened through an indirect dealer loan will not count as an entry.
4. Limit. Entries in excess of any stated limitation, and entries generated by script, macro or other automated means, or any means that subverts the entry process, will be void. Any attempted form of entry other than as described herein is void. Sponsor will determine, in its sole discretion, what constitutes a valid entry, and reserves the right to reject any submissions that it deems, in its sole discretion, to violate any of Sponsor's policies, standards, or practices. All materials and entries submitted become the property of the Sponsor and will not be returned or acknowledged.
5. Agreement to Official Rules. Participation constitutes Entrant's full and unconditional agreement to comply with the Official Rules and Sponsor's and Administrator's decisions, which are final and legally binding in all respects.
6. Winner Selection and Notification. A random drawing will be conducted on or about May 8, 2023 by the Administrator from all eligible entries received during the Entry Period.
Prize. Only the prize listed below will be awarded in the Competition
One (1) Grand Prize: Complimentary round trip airfare, 3 days/2 nights hotel Accommodations for the winner and ONE guest to Las Vegas, Nevada.
As a prerequisite for receiving a prize, potential winners will be required to sign (a) an Affidavit of Eligibility; (b) an Agreement of Publicity (except where prohibited); (c) a liability release; and (d) return each of the properly executed documents to the Administrator within fourteen (14) days (or within 60 days for legal residents of Ireland and Philippines) of attempted notification. A potential winner who satisfies all of the Competition requirements, including, without limitation, those set forth in this paragraph, will be designated the official winner (the "Winner").
The Winner will not receive the difference between the actual and approximate retail value of the prize selected by the winner. Sponsor and/or Administrator will not replace any lost, mutilated, or stolen prize. Prize is not redeemable for cash. Sponsor reserves the right to substitute a particular prize for one of comparable or greater value. Winners are responsible for any applicable local income taxes.
8. DISCLAIMER. Subject to applicable laws, Sponsor makes no warranties, and hereby disclaims any and all warranties, express or implied, concerning any prize furnished in connection with the Competition. WITHOUT LIMITING THE GENERALITY OF THE FOREGOING, SUBJECT TO APPLICABLE LAWS, PRIZES ARE PROVIDED "AS IS" WITHOUT WARRANTY OF ANY KIND, EITHER EXPRESS OR IMPLIED, AND SPONSOR HEREBY DISCLAIMS ALL SUCH WARRANTIES, INCLUDING BUT NOT LIMITED TO, THE IMPLIED WARRANTIES OF MERCHANTABILITY, FITNESS FOR A PARTICULAR PURPOSE AND/OR NON-INFRINGEMENT.
9. Release of Liability / Conditions of Participation.
A. Transmission of Information. Sponsor, the Administrator, and each of their respective officers, directors, employees, agents, affiliates, successors, and assigns (all collectively the "Released Parties") are not responsible for: (1) any incorrect or inaccurate information, whether caused by Entrant or not, printing, typographical or other errors, or by any of the equipment or programming associated with or utilized in the Competition; (2) technical failures of any kind, including, but not limited to, malfunctions, interruptions, or disconnections in phone lines or network hardware or software; (3) unauthorized human intervention in any part of the entry process or the Competition; (4) printing, typographical, technical, computer, network or human error which may occur in (a) the administration of the Competition, (b) the uploading, processing, or random selection of entries, (c) the announcement of the Winner or potential winner, or (d) the prizes or any Competition-related materials; (5) late, lost, garbled, misdirected, inaccurate, incorrect, undeliverable, damaged or stolen entries or mail; (6) costs associated with claiming or redeeming the prizes; and/or (7) losses or damages resulting from an Entrant's connection to the Internet via any of the websites referenced herein. The Released Parties are not responsible for any (a) incorrect, mistranscribed, misdirected or undeliverable entries or e-mail transmissions, (b) incorrect announcements, (c) technical problems, including, without limitation, malfunctions of computer systems, servers, providers, or any hardware/software, (d) lost or unavailable network connections or failed, incomplete, garbled or delayed computer transmission, or (e) a combination of any of the foregoing. Sponsor assumes no responsibility for (i) late, lost, incomplete, inaccurate or damaged entries, (ii) undeliverable e-mails resulting from any form of active or passive e-mail filtering by a user's Internet service provider and/or e-mail client, or (iii) insufficient space in user's e-mail account to receive e-mail. Sponsor shall not be responsible for any damage (whether material or non-material) caused to Entrant's computer equipment or to data which is stored on such equipment, or to Entrant's personal, professional or commercial activities. Proof of submitting entries will not be deemed to be proof of receipt by Sponsor or Administrator.
B. Fraud; Reservation of Rights. Sponsor reserves the right to cancel, suspend, and/or modify this Competition, or any part of it, if any fraud, technical failures, or any other factors impair the integrity or proper functioning of the Competition, as determined by Sponsor in its sole discretion. If terminated, Sponsor may, in its sole discretion, determine winners from among all non-suspect, eligible entries received up to time of such action or as otherwise deemed fair and appropriate by Sponsor. Administrator, in its sole discretion, reserves the right to disqualify any individual it finds to be (a) tampering with the entry process or the operation of the Competition, (b) acting in violation of the Official Rules of this or any other promotion, or (c) acting in an dishonest, fraudulent, unsportsmanlike or disruptive manner, and to void all associated entries. The preceding remedy in no way precludes Sponsor from taking legal or other actions against such individuals so as to protect its rights. Sponsor's failure to enforce any provision of these Official Rules in a given circumstance does not constitute the waiver of such provision.
C. Release and Indemnity. By participating, Entrant hereby releases the Released Parties, and agrees to indemnify, defend, and hold the Released Parties, and the other persons and entities involved in the development, production, and/or administration of the Competition, harmless, from any and all liability for losses, harm, damage, injury, costs, fees, and expenses, including without limitation, property damage, personal injury (including emotional distress), and/or death, arising from participating in the Competition, any Competition-related activity, and/or acceptance, receipt, possession or use/misuse of any prize, and for any claims or causes of action based on publicity rights, defamation, or invasion of privacy and merchandise delivery.
11. FORCE MAJEURE. If, for any reason, the Competition (or any part thereof) is not capable of running as planned by reason of computer virus, bug, system malfunction, tampering, unauthorized intervention, fraud, technical failures, fire, flood, earthquake, storm or other natural cataclysm, riot, strike, terrorist activity, civil commotion, governmental regulation, or any other causes beyond the control of Sponsor which, in its sole opinion, corrupts or affects the administration, security, fairness, integrity or proper conduct of the Competition (or any part thereof), Sponsor reserves the right, in its sole discretion, to cancel, terminate, modify or suspend the Competition, or to thereafter conduct the Competition by selecting the prize winner(s) for affected Competition drawing from among all eligible entries received for such affected Competition drawing prior to the action taken by Sponsor or otherwise in a manner which is fair, equitable and in accordance with these Official Rules, as determined by Sponsor in its sole discretion.
12. Disputes. Except where prohibited by law, Entrant agrees that: (a) any and all disputes, claims, and causes of action arising out of or connected with the Competition, or any prize awarded, shall be resolved individually, without resort to any form of class action; (b) all claims must be resolved in the state or federal courts located in the State of Colorado; (c) any and all claims, judgments and awards shall be limited to actual out-of-pocket costs incurred, including costs associated with entering this Competition, but in no event including attorneys' fees; and (d) unless otherwise prohibited, under no circumstances will Entrant be permitted to obtain awards for, and Entrant hereby waives all rights to, any indirect, punitive, incidental, and consequential damages, or damages of any kind (other than actual out of pocket expenses), and any and all rights to have damages multiplied or otherwise increased. All issues and questions concerning the construction, validity, interpretation and enforceability of these Official Rules, or the rights and obligations of the Entrant and Sponsor in connection with the Competition, shall be governed by, and construed in accordance with, the laws of the State of Colorado, without giving effect to any choice of law or conflict of law rules.

Fly Away N' Play (EPFAPSWLAS)
This certificate entitles 2 people to roundtrip airfare to Las Vegas, NV plus 2 nights of accommodations.

*At registration guests will be required to submit the full amount of their nominated taxes and fees plus a $100.00 refundable deposit. The full amount is refundable at any point should the guest choose not to complete a travel booking. The $100.00 refundable deposit portion will be returned once the guests return home from their trip unless applied to any requested upgrades.

*Taxes and fees (per couple) for this program depend on departure city: $208.40 from Portland, OR; $212.64 from Sacramento, CA; $207.34 from San Francisco, CA; $206.42 from Oakland, CA; $212.64 from San Jose, CA; $208.18 from Bellingham, WA; $202.18 from Reno, NV; $212.64 from Los Angeles, CA; $202.04 from San Diego, CA; $206.56 from Salt Lake City, UT; $158.84 from Phoenix, AZ; $208.18 from Denver, CO; and $200.98 from Albuquerque, NM. (Please note that these nominated tax/fee values are in USD and already include the $100 refundable deposit)

*Accommodations will typically be 3-star/entry-level such as: The Four Queens, Palace Station, The D, and The Stratosphere or similar additional off strip hotels. (Based on availability.)

*Promotional departure days: Mondays, Tuesdays, or Wednesdays only.

*Upgrades: We have a team of dedicated professional travel consultants. After the recipient completes their registration, they will be assigned to their own personal travel consultant. Their consultant will work with them to either book their promotional base line vacation or help them book the custom vacation of their dreams. That might include upgraded accommodations, additional nights, modified flights, car rental, attraction passes and more. In some cases, a guest might decide to venture on to an entirely different destination. The sky is really the limit. Our goal is to send each certificate holder on a memorable vacation.

Registration Process:

*Guests go to Odenzareg.com to fill out the registration information. They will need to submit a refundable reservation deposit at the time of registration. They can pay by Visa/Mastercard (if they do not have access to a computer, we will mail them a manual registration form and they can submit their funds in the form of a bank draft or money order)

*In receipt of the funds their certificate will be assigned to an Odenza travel agent and the travel agent will contact them directly to begin the booking process.

FAQ's:

Is the certificate transferable?
Yes, the certificate is transferable prior to registration.

Why are funds required before speaking with a travel agent?
Prices and availability of travel change by the minute which means that the funds are needed in-house at registration so that as soon as the guest wants to book a spot can be reserved. The guest will receive a full 100% refund if they no longer want to book at any point.

Can I use 2 or more certificates together for group travel?
No, group travel is not permitted as stated in the terms and conditions.

*Please Note: These certificates are for promotional use only, by customers, and cannot be used by client principals, employees or related parties.