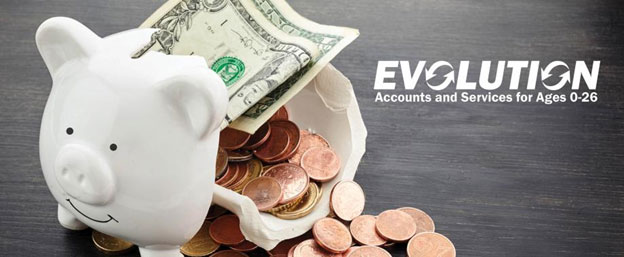 Enter Our Evolution Coloring Contest!
Print out one of our coloring sheets, color it, have your parent fill out the information on the bottom and bring it to one of our branches July 27 – August 14, 2020. Your name will be entered into a drawing for a gift certificate to Two By Two Petting Zoo! This contest is open to children age 10 and under, one entry per child.
---
At Northern Colorado Credit Union, we believe that learning financial responsibility begins at an early age. That's why we've developed our Evolution Youth Accounts for members ages 0-26. These accounts have been specifically designed to grow and evolve with a child into adolescence and early adulthood. With Evolution Share, Evolution Checking and Evolution CDs, our younger members build a solid foundation of short and long term saving habits and responsible spending.
Evolution Share
Your Evolution Share is the foundation of your membership at Northern Colorado Credit Union. It functions much like a savings account that you can deposit money into and earn interest to help your money grow.
Who Can Have an Evolution Share?
Anyone age 0 to 26 can open an Evolution Share. Individuals under 18 must have a parent or guardian who is currently a member of NCCU. Members over 18 may open it as an additional share on their own membership. Only one Evolution share is allowed per membership.
What are the Benefits of an Evolution Share?
In addition to all of our regular member benefits, you will have access to other Evolution products. But here is the best part:
Earn Elevated Interest on your first $500!
Evolution Checking
Evolution Checking is an interest-bearing account that puts spending power at your fingertips with all the convenient products and services you need and want.
Who Can Have an Evolution Checking Account?
Anyone age 14 to 26 can open an Evolution Checking Account. Only one Evolution Checking Account is allowed per membership.
What are the Benefits of an Evolution Checking Account?
With Evolution Checking, take advantage of NCCU's convenient services like Direct Deposit, Debit Card, Remote Deposit, E-Statements, Virtual Strongbox, Online Banking, Debit Card Roundup, and so much more!
Evolution CD
Are you ready to become a Serious Saver and really make your money grow? A Certificate of Deposit (CD) is one of the safest investments available. CDs earn higher interest and build your financial stability as the money stays in the account until it matures.
Who Can Have an Evolution CD?
Anyone age 0 to 24 can open an Evolution CD. Only one Evolution CD is allowed per membership. Minimum to open is $100.
What are the Benefits of an Evolution CD?
The Evolution CD term is 24 months and it earns higher interest than our traditional 24 month rate. Unlike a traditional CD, you can make deposits to your Evolution CD. Whether it's birthday money or your earning from shoveling snow or mowing lawns, add it to your Evolution CD to maximize its potential.
All memberships are subject to approval. Open to anyone that works or lives in Larimer or Weld County. Evolution Share: Balances over $500 will earn our standard share rate. Evolution Checking: When primary owner reaches age 26, it is the member's responsibility to review current checking account offerings and select product. Failure to do so will result in an automatic transfer to NCCU's current basic checking account. E-Statements and Virtual Strongbox required. Members under age 18 must have a parent or guardian as a joint account owner and will have reduced debit card and remote deposit limits. Evolution CD: Maximum allowed balance of $2000. 90 Day penalty for early withdrawal. CD will be closed when primary owner reaches age 26. All rates are expressed as an Annual Percentage Yield (APY), APY is the prospective yield that the credit union anticipates to pay for the applicable dividend period. Penalties apply if balances are withdrawn before maturity of full term, see rate sheet and Truth in Savings disclosure for details. Rates are subject to change at any time. See Rate Sheet for current rates. All account owners must meet membership eligibility requirements.