At Northern Colorado Credit Union, we are all about saving our members money! Stop paying a high interest rate for your credit card from a big bank and make the switch to the NCCU VISA® Platinum Rewards Credit Card.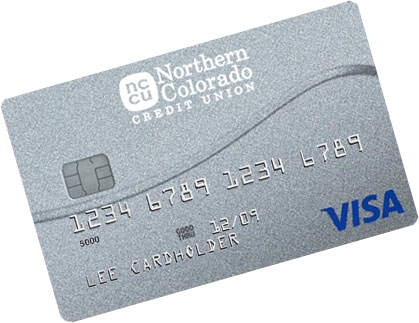 No balance transfer fees
No cash advance fees
No annual fees
No hidden fees
AND earn points for qualified purchases*
No kidding!
Earn points to redeem for merchandise, travel & MORE!
Earn one point for every $1 you spend* with your NCCU Visa Platinum Rewards® Card. Plus, earn additional points by shopping at specific retailers that are part of our ScoreMore Rewards program. If you already have an NCCU Visa Platinum Rewards® Card, you are automatically enrolled in the rewards program. We simply want to offer you the best rewards credit card we can because that's what being member-focused is all about!
Redeem Your Points
Visit ScoreCardRewards.com to redeem your points and set up your profile in a few, simple steps. You can redeem your points for an array of merchandise, gift cards, and travel rewards, and check out which retailers are part of the ScoreMore Rewards program.
*Not all purchases qualify. Finance charges, fees, cash advances, convenience checks, ATM withdrawals, foreign transaction currency conversion charges or insurance charges posted to "Your Account Points" have no cash value. Points cannot be exchanged for cash or credit.
Manage Your Account
Log in and register your card so you can manage your credit card account right from our website! You can also make credit card payments and see your balance in our Online Banking section.
EMV-Chipped Cards
The NCCU Visa Platinum Rewards® Credit Card now comes with the added protection of having EMV Chip Technology. Please click the link below to learn more about EMV Chip Technology and how to take advantage of the extra benefits this technology provides.
VISA Checkout
All NCCU Visa Platinum Rewards Credit Cards come with VISA Checkout. Pay online the easier way with this enhanced service in a single-click!
Pay with a single login from any device
Guard your data behind multiple layers of security
Keep earning the card rewards you love

Lost or Stolen Credit Card
To report your credit card lost or stolen please contact us immediately at- 1.800.247.4222
Remember to be extra vigilant and always look at your statements regularly. Protect your identity and your credit. Report potential credit card fraud to us right away.
For more information or questions regarding credit cards, please contact one of our loan officers at 970.330.3900 or contact us here.
---
Note: A credit card does not protect you against identity theft, but VISA® provides further fraud prevention capabilities to help safeguard you and your NCCU card. Go To VISA® Fraud Prevention for further information.
**9.90% Annual Percentage Rate fixed rate with approved credit. Qualified membership to Northern Colorado Credit Union applies. Late payment fee of $15.00, Returned payment fee of $15.00. Contact Northern Colorado Credit Union for full terms and disclosures.