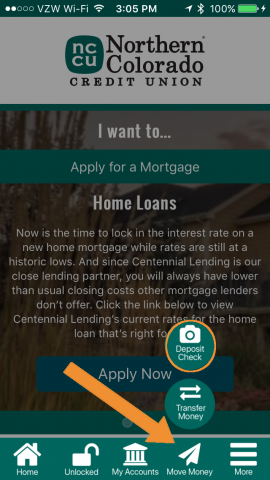 MOBILE DEPOSIT CHECKS ON OUR MOBILE APP
NCCU Mobile Deposit is a secure and easy way to deposit checks directly into your accounts at NCCU using an Android or Apple® mobile device. Using your NCCU Mobile App from your mobile device, click the "Move Money" button on the menu at the bottom of the screen (see picture), take photos of the front and back of your check and submit. It's that simple!
---
MEMBER REQUIREMENTS TO USE NCCU MOBILE DEPOSIT –
All checking accounts must be open for 90 days
Accounts must be in good standing (no NSF or courtesy pay activity)
Account holder must be 18 years of age or older
No previous attempts of depositing duplicate checks
DOWNLOAD OUR MOBILE APP TODAY AND SIMPLIFY YOUR LIFE!
MOBILE DEPOSIT LIMITS
DEPOSIT LIMIT FOR A SINGLE CHECK- $1500
DAILY DEPOSIT LIMIT- $2500
MAXIMUM NUMBER OF CHECK DEPOSITS PER DAY- 10
TOTAL DOLLAR AMOUNT OF DEPOSITS PER 30 DAYS (rolling) – $5000
MOBILE DEPOSIT LIMITS FOR EVULOTION ACCOUNTS (AGES14-18)
*Evolution Account holders over age 18 will have standard mobile deposit limits, stated above.
DEPOSIT LIMIT FOR A SINGLE CHECK- $500
DAILY DEPOSIT LIMIT- $1000
MAXIMUM NUMBER OF CHECK DEPOSITS PER DAY- 10
TOTAL DOLLAR AMOUNT OF DEPOSITS PER 30 DAYS (rolling) – $2500