YOUR MONEY AT YOUR FINGERTIPS WITH OUR MOBILE BANKING APP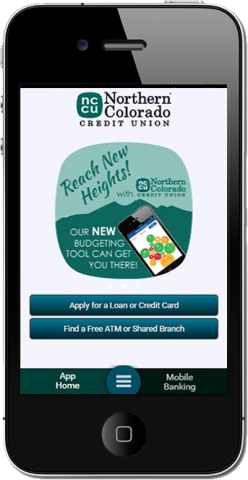 The NCCU Mobile Banking App allows you to easily access your accounts from any mobile device that can connect to the web. The app seamlessly integrates with our online banking, 'It's Me 247' and provides you with smoother navigation and innovative features when accessing your accounts from a mobile device. The NCCU Mobile Banking App provides you all the financial tools you need at your fingertips, all wrapped into a sleek design while you're on-the-go!
Features Accessible from your Mobile Device-
Deposit checks from your mobile device using NCCU Mobile Deposit!
Check account balances
View the date and amount of your transactions, including deposits, withdrawals and transfers
View amount applied to interest and principal in a loan payment
Review loan balances, due dates and make loan payments
Request NCCU to contact you
Check current loan, savings and certificate rates
Choose personal preferences such as background color, photo album, and starting page
Pay bills through online bill pay
Transfer funds to ANY NCCU account
Read secure messages from NCCU
Update your address or phone number
Manage contact preferences
Easily apply for a loan or credit card
Display Online Banking Login and Password History
How do I access/download the NCCU Mobile App?
From your mobile device, click the link above that corresponds to your mobile device (Apple or Android)
After our NCCU Mobile App appears in one of the app stores click 'INSTALL' (Google Play) or click 'GET' (Apple App Store)
Once the app has downloaded, visit your home screen and click the NCCU icon to launch the app
If you've received your temporary username/password, enter your temporary username in the space provided in the top right corner of this page and click 'Submit' (current users of our online banking should enter the username they created).
On the next screen, enter the temporary password provided for you and click 'Submit' (current users of our online banking should enter the username they created)
Accept the Terms & Conditions of Use (scroll to the bottom of the page to accept)
First time users will be prompted to change their default username/password and set up security questions.
*New passwords must at least 6 characters in length and meet strong password requirements: 3 out of the 4 following characteristics – lowercase letter, capital letter, symbol, or number.
*If you are an owner on more than one credit union membership, ask us about setting up controls to access all your accounts in online banking.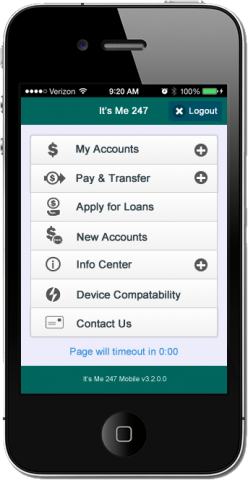 *To change your username, log in to online banking, click 'Info Center', then 'My Preferences', then select 'Username Options' and follow the easy instructions.
New to Online Home Banking?
If you are a current member and would like access to It's Me 247 online banking, please click the link below and submit the online banking application. We will begin processing your application within 24 hours after we receive it. Feel free to contact us any time throughout the process.
Once we have processed your request, we will provide you with the temporary username/password you will need to access your account.