You can make a payment to your Northern Colorado Credit Union loans or credit cards from any external account.
Pay via our website or through NCCU online & mobile banking.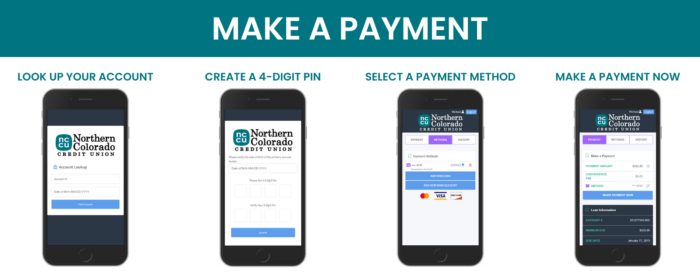 Setting up your online payment
When you verify your account for the first time you will complete the following steps:
Create a 4-Digit Pin: After entering your account number and date of birth, you will be prompted to create a 4-digit pin. Store this information in a secure place as you will need this pin number to verify future payments.
Select a preferred method of payment: To make a payment you will add your preferred form of payment in the portal. This can be done by selecting ADD NEW DEBIT CARD or ADD NEW BANK ACCOUNT which will prompt a secure website for you to input your information. If done correctly, there will be a message stating 'Payment Method Success' and you will be redirected to the payment portal.
After your account has been successfully verified, you will be directed to the payment portal where you'll be able to see all of your loans and will be able to select your preferred payment method.
**Please note that your payment may take up to three (3) business days to post to your account**
Can I make a payment on my loans through my online and mobile banking account?
Log in to your online and mobile account using your smartphone, tablet, or desktop and select 'Make a Payment' from the menu bar located on the left. This will take you to the payment portal where you will have to verify your account.